Our History
Our history is important to us, it's how we got to where we are today.
---
The start
The company Drakakis Rent a Car was established in 2008 in Kythira by Panagiotis (Panos) Drakakis with the initial aim of meeting the parent company's – drakakis tours agency, rental needs for its' customers.
Initially the company started off with a fleet of just 10 vehicles, however, following a steady upward trend it quickly became the second largest car hire company in Kythira today with the fleet now comprising 120 vehicles with the largest range of categories on the island of Kythira.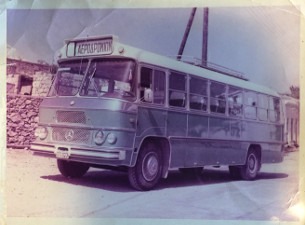 The vehicle fleet of the company has the following types of cars:
Small and Economical cars (Citroen C1 or similar)
Medium type and cube cars (seat Ibiza or similar)
Family cars (Citroen Εlysee or similar)
SUV's (Suzuki Vitara or similar)
4wd cars (Dacia Duster or similar)
Seven seaters (Citroen Berlingo or similar)
9 seat minivans (Citroen Spacetourer or similar)
Convertible cars (citroen C1 convertible or similar)
The best service
All categories (except the 7 and 9 seats) are available in both manual and automatic gearboxes. It concerns cars which are regularly renewed. and combining all this with their thorough control and maintenance, they offer reliability and assurance.
Our company always "listens" to customer needs and ensures that it responds to them in the best possible way. The aim and philosophy of our business is always the best service, competitive prices (which include comprehensive insurance), excellent car and service quality, and clear rental conditions.
Drakakis Rent a Car offers immediate assistance in case of an accident or damage, 24 hours a day, 7 days a week. In case of damage or accident our company only cooperates with the most experienced engineers on the island of Kythira. And we're always close to the customer with an alternative vehicle if necessary.
Drakakis rent a car is an official member of:
Association of Greek Car Rental Tourist Enterprises (STEEA)
Hellenic Tourism Organization (EOT)
The head office of the company "drakakis rent a car" is located in the southern part of the island in Livadi Kythira. It's only 4 kilometers away from the capital of the island. It also operates a branch all year round at the Alexander Aristotelous Onassis Airport in Kythira, providing fast and reliable car rental services upon clients' arrival or departure from Kythira Airport. As our company delivers it at the exit, just a few meters from the luggage compartment and luggage area, you no longer have to search for your car in the airport parking lots.
Following the evolution of the era, Drakakis Rent a Car has created an electronic reservation system, which operates on a continuous basis. You can browse our company's website and make your reservation online 24 hours a day through our system's simple forms. For any other service, do not hesitate to contact us on the company's phones or through the online contact form where we will be happy to serve you. We are proud to say that in 99% of cases we respond to 24-hour emails!
Our company is the only company in Kythira that allows the car rental to be returned to a location outside Kythira. So our customers can rent the vehicle of our company in Kythira and return it upon request (at extra charge) to a different location within Greece.
Drakakis Rent a Car has created premium packages for group rentals for weddings, christenings, conferences and other events. It also generates discount offers on lower demand periods
Also if you are a professional, small business or large company, Drakakis rent a car can provide you the most affordable car rental solution on a monthly basis!
Trust our company for long term car rentals and you will always win!